Exterior Homes Painted by JusPainting
When you want quality prep and painting, call (303)988-1964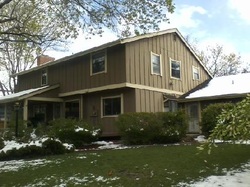 We painted this house on Ottero Cir. 9 - 10 years ago.
We are going to re-paint it again, now in 2014.
Prep is not bad and the darker/main color faded a bit, but not bad for 9 years.
Most competitors jobs last 2-3 years, because of the lack of their preparation.
---